Brian the Ball
Thanks for visiting the Brian the Ball website! Brian the Ball is a Virtual Reality game designed for Android devices and to work with a Google Cardboard or other VR Head Unit. You guide Brian through many adventures as he navigates his way through exciting and challenging worlds.
I wanted to make a game that does not require any input from the user other than head movement and also strives to avoid motion sickness feelings so a player can play the game for longer.
You can try the demo out by following this link:
https://play.google.com/store/apps/details?id=com.MossJrProductions.BrianTheBall
At the moment, the game is mearly a three level demo, but new levels are being developed to continue the story. If you would like to help out with this project, you can visit my Kickstarter page here:
https://www.kickstarter.com/projects/1475887958/brian-the-ball-0
Thanks again for your interest in this game and I hope to bring you a fun experience using Virtual Reality!
- Kyle Davis (MossJr Productions)
Powered by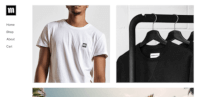 Create your own unique website with customizable templates.